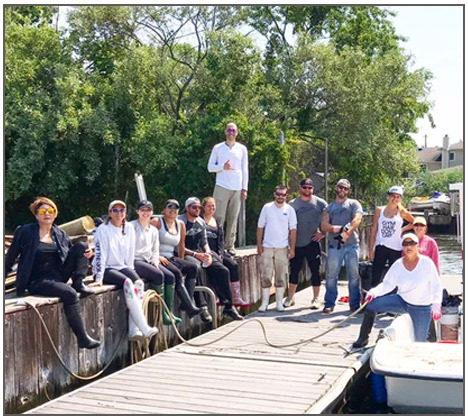 Since their founding in 1990, Operation SPLASH has grown from 1 caring person to several thousand concerned members, in 7 chapters dotted all along Long Island's South Shore. The 6 SPLASH boats run from March through November and are operated by volunteer captains and crewmembers.
SPLASH boats patrol our local waterways. Over the past three decades, volunteers have rescued more than 2,000,000 pounds of trash, marine debris and navigational hazards from our bays, beaches and waterways. Most of what they pull from the water comes from the land around us — through storm drains and from storms blowing debris into the water. SPLASH has also designed and maintains the award-winning Mill Basin Debris Trap.
Aside from collecting trash, they have also made tremendous headway in stemming the awful tide of sewage being dumped in our bays, and the toxic pollution entering our waters through storm water runoff. SPLASH crews actively monitor and identify pollutants as well as their sources. To reduce the flow of toxins and trash into our bays, SPLASH has collaborated on the funding and installation of more than 4,000 street storm drain inserts in Nassau County. The reduction in pollution is quite remarkable.
Their award-winning SPLASH education program is teaching thousands of students each year about the importance of our South Shore Bays and the challenges that they face. Students of all ages, from elementary school through college, enjoy the classroom program, the bay tour by boat, the trip down the Nautical Mile, and seeing the saltwater tanks brimming with local marine life.
With the leadership of talented and environmentally-passionate marine tradespeople, educators and business owners, SPLASH has remained focused on its mission and produced extraordinary results.
A portion of Long Island Strong's LOCAL branded merchandise is directly donated to Operation Splash.